Donation and Open Space Ceremony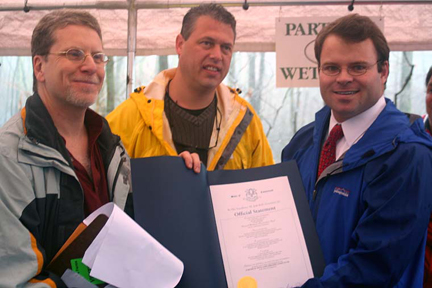 Matthew Mandell & Sean Timmins receive a Governor's Proclamation from Chris Tymniak of her office on behalf of the PWPF at a ceremony marking the Donation and Open Space Dedication, January 2007.


Watch a 5 minute video on-line of the dedication ceremony


Conservation Easement given to CT DEP and the Westport Conservation Commission


For more info about the ceremony click here.


WETLANDS SAVED As Deal is Struck!!!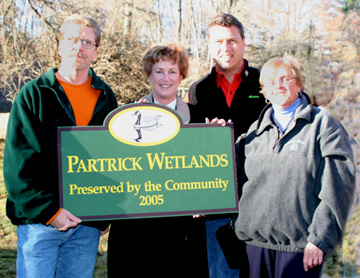 Governor M. Jodi Rell Congratulates the PWPF on saving Open Space

Phase I, "Saving the Land" complete
Phase II, "Maintaining and Stewarding" begins
*** Fundraising for Phase II starts ***
Please Donate

CT DEP Commissioner McCarthy visits the wetlands, promises help
PWPF, ARS & Town Reach Agreement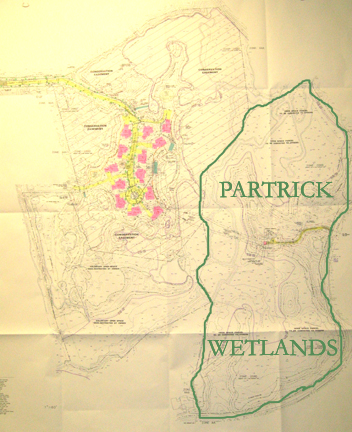 The 22 acre southeastern side of the property will be donated to the PWPF
ARS will build 13 houses, a 58% decrease from original proposal of 31
Private, single-purpose, sprawlless sewer line will seve only these 13 homes
Westport Sewer Avoidance Area Enacted

Read the PWPF Press Release
Read the news articles | Read the Stipulated Agreement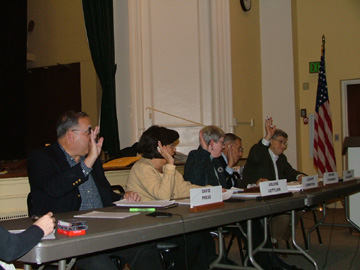 P&Z votes 5-0 (photo by Ron Malone, thanks Ron)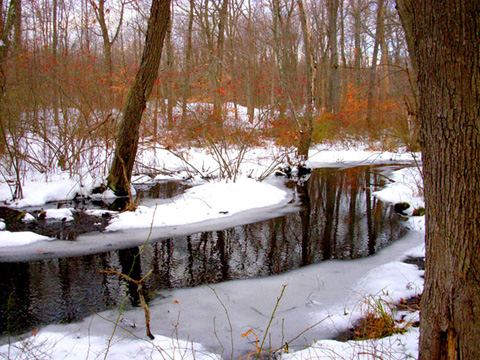 Winter on the Wetlands and Poplar Plains Brook

Matthew Mandell Interviewed on the Radio about Smart Growth and the Achievements of the PWPF
Click here to listen to the MP3 Podcast (5.5mb)

Protect the Partrick Wetlands
and our Community


PWPF Co-Director Sean Timmins and member Cynthia Noreke were each honored by the Westport Historic District Commission for Preserving their homes.

Click here for article in Westportnow.com
You all know the land, the former FD Rich property, between Partrick Road and Newtown Turnpike (location map). The Partrick wetlands is a fabulous habitat, home to countless animals and abundant in plant life. This precious resource is one of the largest recharge areas for the aquifer that brings most of us our drinking water. ARS Partners is going to put a clustered sub-division on it that could pollute our water, harm the wetlands ecosystem and overcrowd the Old Hill and Newtown neighborhoods.
We need your help.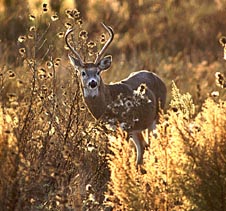 Background --- Site Map --- Email the Town

In a Nutshell, the Proposed Development May:
The White Barn Theater Property, also on Partrick and Newtown, is now in jeopardy of being over developed with 13-23 houses. In a new form of Regional Cooperation, we are working with our Norwalk neighbors, the Save Cranbury Association, to prevent that from occuring.
Partrick Wetlands Preservation and Save Cranbury Honor Norwalk Officials
for protecting the rural and historic quality of our neighborhoods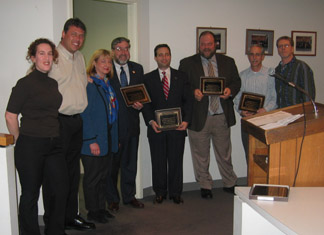 SCA member Jill Montesanto, PWPF Co-director Sean Timmins, SCA Director Joanne Jackson, Honorees Mayor Alex Knopp, Senator Bob Duff, Councilman Doug Hempstead, Councilman Bruce Kimmel, PWPF Director Matthew Mandell.
Make a Tax Deductible Donation to our Cause